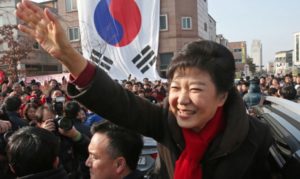 By Tina Kim
South Korea elected its first female president, Park Geun Hye, on Dec. 19, 2012 marking the beginning of a new kind of leadership. This election comes as a revolutionary and paradoxical development for South Korea, a region historically influenced by Confucianism. Confucian beliefs of female subordination to male figures have–at some level–predisposed gender inequality throughout Asia. However, this election indicates a change from such beliefs and is symbolic of the modern progression of South Korean and perhaps Asian society overall. On the other hand, as the daughter of a former president, Park Geun Hye traces back to the legacy her parents left behind for the South Korean people.
Park Geun Hye has been noted to largely model after her mother, Yuk Young Soo, who was one of South Korea's most beloved first ladies. Park Geun Hye's father, former President Park Chung Hee, is known for promoting rapid industrialization and economic growth in South Korea. However, to others, he was a villain for the coldblooded crackdowns of his opponents in order to hold power. Nevertheless, he created an environment where companies such as Samsung and Hyundai would thrive and instituted the economic foundations that would permanently bring the South Korean people out of third world poverty. Today, South Korea is the world's fifteenth largest economy and its modern society carries new hardships that President Park Geun Hye now inherits.
Interestingly, unlike female leaders who emulate stereotypically male characteristics such as toughness, aggressiveness, and domineering authority, Park Geun Hye has deviated from such an image. Instead, she has taken on a largely maternal persona–one that emits stability, principle, and trustworthiness. With the global and domestic economy declining, Park Geun Hye's almost motherly dedication to her country is exactly what the South Korean people need.
Modernization and decreasing economic growth have brought many difficulties to ordinary individuals and family households, such as high commodity prices, skyrocketing college tuition, gender inequality in the workplace, and an increasing wealth gap. In response, Park Geun Hye has embraced and addressed these problems as a maternal figure for the nation.
A 60 year-old and never married woman, she once said, "I have no family to take care of. I have no child to inherit my properties. You, the people, are my only family, and to make you happy is the reason I do politics." Since her election, Park Geun Hye has promised to institute government fully subsidized childcare for children under the age of five, so that mothers have the equal opportunity to work. In addition, she has proposed programs to prevent sexual assaults as well as increase government funding for social security and university tuition for the poor.
In order to improve domestic and foreign policy, South Korea needs Park Geun Hye's quiet leadership of gradual change. Radical action will not resolve issues stemming from decades of conflict. In a region characterized by conservatism, division, and war, South Korea needs such a leader that can advocate diplomacy over aggression and maintain a level of national stability. For the past 15 years, Park Geun Hye has been a widely popular and successful politician in part, because of her cautious, yet tactful leadership. In 2004, she was nicknamed the "Queen of Elections" for masterminding the comeback of the conservative party in South Korea's parliamentary elections. However, more than politics, modernization, and her maternal figure, Park Geun Hye was elected because she represented and reminded the South Korean people of the best and worst of their past.
Like the rest of the older generation of South Korea, Park Geun Hye lived a life of modest means in an era when the country was plagued with poverty from Japan's brutal 36-year colonial rule and the Korean War. The hunger, hardship, and struggle defined the life during Park Chung Hee's 18-year presidency. These were times when young women worked in factories on empty stomachs, when students worked several jobs in order to attend college, and when families and friends shared each other's meager belongings. It was a period of great economic development but also of great loss for both its leaders and civilians.
During her father's presidency, Park Geun Hye's mother was killed in a North Korean assassination attempt aimed at her father. Park Geun Hye became the first lady at the young age of 22. Five years later, her father was also assassinated. Although not realized during his regime, many have attributed the higher standard of living in South Korea to former President Park Chung Hee even years after his death. Park Geun Hye's parents and their generation's sacrifices for national economic growth have become legacies that the South Korean people do not want to forget. For these reasons, the election of President Park Geun Hye was both timely and appropriate for South Korea's leadership for the next five years.
Looking back on my country's history as a Korean American, I hear stories of this era from my grandparents and parents. As much as there was struggle and sacrifice, there is pride in the fact that South Korea rose from the ashes of destitution, division, and war. This legacy defines South Koreans today, and the leadership that led South Korea to progress is what South Koreans wish to see repeated in Park Geun Hye's presidency. Modernization today has created an array of new problems that remain unanswered.  However, by electing the daughter of President Park Chung Hee as South Korea's first female president, the South Korean people are looking for answers from history while adapting for a brighter future.
Tina Kim is a second year Communications major and Public Policy and Urban Planning double minor.